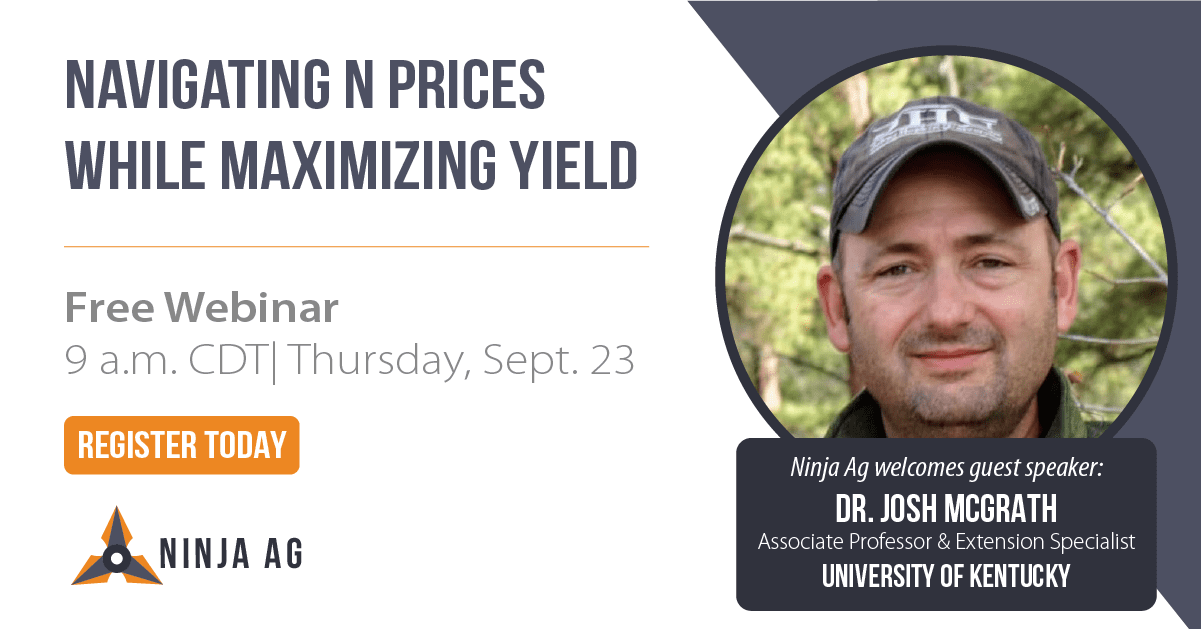 Navigating Nitrogen Prices While Maximizing Yield | Free Webinar
Nitrogen fertilizer prices are holding steady at near record high levels. The right rate of nitrogen always returns on investment. Nonetheless, in years with elevated input costs and uncertain markets, we need to think about nitrogen management tools that help us get the biggest bang for our buck. There are strategies that not only minimize fertilizer input costs at maximum yield levels, but also reduce uncertainty. We often overlook the uncertainty introduced by fertilizer management decisions, but return on nitrogen fertilizer inputs is not an area where you want to roll the dice. Fertilizer timing, fertilizer type, decision support tools, and other crop management factors all play a role in determining the best nitrogen rate that optimizes yield and increases our confidence in the decision we make. We will discuss specific tools available to help us maximize nitrogen fertilizer ROI, look at crop management decisions and the tradeoffs they present, discuss proper implementation of in-season nitrogen management, and talk about field tools available to help us target the "Right" nitrogen rate for corn grain production.
In this free 30 webinar, Dr. Josh McGrath, Associate Professor and Extension Specialist at the University of Kentucky, will share his extensive expertise on the topic. By the end of this webinar, you will:
Know different strategies to minimize fertilizer input costs and maximize yield levels
Know different tools available to help maximize nitrogen fertilizer ROI
Know proper implementation of in-season nitrogen management
Dr. McGrath, associate professor at the University of Kentucky, has served as an extension specialist at UK (2014-present) and the University of Maryland (2006-2014), where he established an integrated research and extension program focused on developing, teaching, and implementing management practices that increase farm efficiency while protecting natural resources. He built his reputation through a robust on-farm, applied research program in cooperation with farmers and policy makers.
Dr. McGrath speaks throughout the U.S. and internationally about nutrient management, soil fertility, and environmental stewardship. He has served in leadership roles for both the Agronomy and Soil Science Societies of America and on the editorial boards of multiple journals.
Dr. McGrath received the Agronomic Education and Extension Award in 2019 from the American Society of Agronomy. Born and raised in Smyrna, Del., Dr. McGrath earned a B.A. from Johns Hopkins University and a Ph.D. from the University of Delaware; he conducted post-doctoral research at Virginia Tech. When not talking about or researching soil fertility, Josh enjoys spending time with his wife Kimberly and their dog Wendell, hunting, and fishing and has been a volunteer firefighter for over 25 years.
Our free educational services are for precision agricultural professionals who want quality information that's based on research-proven methodologies and technologies that deliver value. We emphasize unbiased technological research and advancement and take an innovative approach to best management practices that deliver customer value. Ninja Ag has a passion for NDVI-driven solutions and is committed to sharing information with the precision agricultural community that promotes a greater understanding of research-proven, effective fertility management methods that drive the use of quality, reliable data to make informed, sustainable decisions.
Email us at info@ninjaag.com if you have questions or to get more information on Ninja Ag.