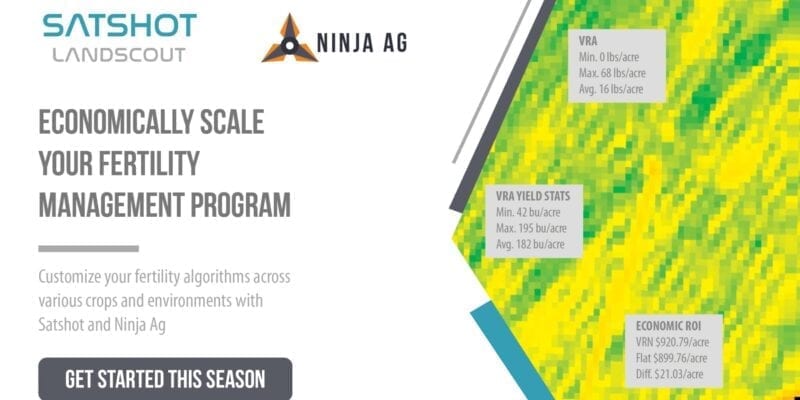 SATSHOT AND NINJA AG TEAM UP TO DELIVER ADDED VALUE TO NDVI IMAGERY
Standardized Data that Visualizes In-season Input Decisions and Return on Investment
PRESS RELEASE
[STILLWATER, OK, January 29, 2021] — Satshot and Ninja Ag are pleased to announce they're teaming up to provide a unique offering that helps service providers implement a practical and scalable fertility management program.
SatShot is a leading innovator with more than 20 years of experience in delivering access to satellite imagery from all corners of the world. Currently, Satshot hosts more than 20 million field boundary acres and acquires billions of acres in imagery each season.
"Satshot knows imagery, and Ninja Ag knows nitrogen," said Lanny Faleide, Satshot's President and Founder. "Relying on each other's strengths make Satshot and Ninja Ag a good team."
Ninja Ag's partners have a breadth of knowledge in fertility management and precision agriculture with more than 65 years of combined experience. Using Ninja Ag's ground-truthed imagery and research-proven algorithms, users get more accurate variable and flat rate fertility recommendations and site-specific return on investment information.
"Satshot's experience in agricultural imagery and it's access to imagery worldwide gives users the opportunity to economically scale their service offerings," said Courtney Arnall, Ninja Ag's Chief Executive Officer and Co-founder. "Our system focuses on delivering added value to imagery through proven, practical fertility management methods and algorithms. We understand there's no easy button to nitrogen recommendations, but we provide an economical and scalable solution. By pairing Ninja Ag's system with Satshot's satellite imagery, users have a powerful, scalable and economical fertility management tool that provides more precise in-season nitrogen recommendations for various crops and environments."
There is still time to get started with Satshot and Ninja Ag this season. Service providers interested in taking advantage of this opportunity can contact Tyler Lynch, Agronomist and Agronomy Account Manager at Ninja Ag at tlynch@ninjaag.com; or Lanny Faleide, President and Founder at Satshot at lanny@satshot.com or 701-367-3066.
About Satshot:  Satshot, is a leader in remote sensing imagery analytics for the precision agriculture and crop insurance industries, providing a one-stop center for distribution of agricultural satellite imagery and tools through its web based geo – spatial imagery archive across the world, along with its mobile Landscout app, creating near real-time information for actionable use on detecting changing vegetative biomass conditions for variable rate application.
About Ninja Ag:  Ninja Ag LLC is a limited liability company that delivers NDVI-driven solutions to agronomists so they can help farmers achieve their yield goals. Through its corrected NDVI imagery, Ninja Ag provides agronomists with tools to create in-season variable rate nitrogen recommendations, yield potential maps and return on investment maps. Based in Stillwater, Okla., Ninja Ag delivers service providers peer reviewed, research-proven, customizable solutions. For more information, visit www.ninjaag.com, or connect with NinjaAgLLC on Twitter, Facebook, YouTube and LinkedIn.